︎︎︎ Homepage 2020_05_13 Interview


Young Photojournalists Today
Alessia Arcuri interviews the photojournalist Claudia Greco, who since her graduation has been collaborating with Agenzia Giornalistica Fotografica photo agency in Milan.

Alessia Arcuri poses a series of questions to photojournalist Claudia Greco, who since her graduation in 2018, has been collaborating with the AGF photo agency in Milan. Claudia's work has been published across major outlets in Italy and has covered a series of major new stories since graduation, most notably her recent coverage of the COVID-19 outbreak in the Northern region of Lombardy.
AA
Could you introduce yourself, a little about your background and how you came to photojournalism?

CG
I am a freelance photographer based in Milan, covering social issues, breaking news and politics. I'm a contributing photographer for the Italian photo agency AGF. In 2015 I moved to London to study Photojournalism and Documentary Photography at the University of the Arts London and in 2019, returned to Milan for work. I came to photojournalism when I was at secondary school, where I was totally fascinated by the medium and combined it with my interest in politics and news.

AA
You mentioned you studied in London, what were your reasons for returning to Milan and was this always your plan?

CG
It wasn't my original plan to return to Milan but I left my options open. At one point I just realised that I was interested in working in Italy because of certain stories and topics in my home country. I leave my options open for the future as well.
AA
I'd be interested in knowing how much of what you learned at university has been useful, could you give some examples of what you've applied to your job working at AGF?
CG
Some of the practical advice I received at university has been very useful in the field, such as shooting from different perspectives and being sure to capture the relationships between people. These might seem obvious but they're not, in particular at the beginning it's not always easy to focus on details when you're working in a high-speed environment.

AA
What is it like being a photographer in Italy and how does it differ from the UK from your experience?
CG
I'm not sure of the differences between being a photographer in Italy and the UK - I didn't work in the same way when I was in London, so I'm not sure. I think in both countries, as is probably the case in most places, that the competition will very much be there - especially in the journalistic field. I would say that my experience in the UK was relaxed, because then again I wasn't working professionally full time.

AA
Could you discuss how you began working at AGF?
CG
I began working at AGF after more or less six months after graduating. I did an internship for two months to understand the practice and mentality of working in a high-speed environment then started collaborating as I am now.
AA
How is your day structured?
CG
My day doesn't have a regular structure: it's based on the priority of the news, if we have some assigned work, etc. I regularly talk to my senior colleagues and the photo desk in Rome regarding the main events and themes to follow.
AA
How do you balance assignments with your personal projects? Would you like to share any personal projects you're currently working on?
CG
It's difficult to find a balance between personal projects and assignments, mainly because both sides of freelancing take a great amount of energy. At this particular moment I'm focusing on developing my practice in the field I'm in now, I'm still learning so much.
AA
I have seen that you've been documenting Covid-19 in Milan, I often wonder what it's like walking through an empty city, how do you feel? Do you enjoy it?

CG
I personally didn't enjoy walking through an empty Milan. I understood the uniqueness of the moment but the whole situation created a profound sense of sadness, in particular at the beginning because of the dramatic and peculiar situation in Lombardy.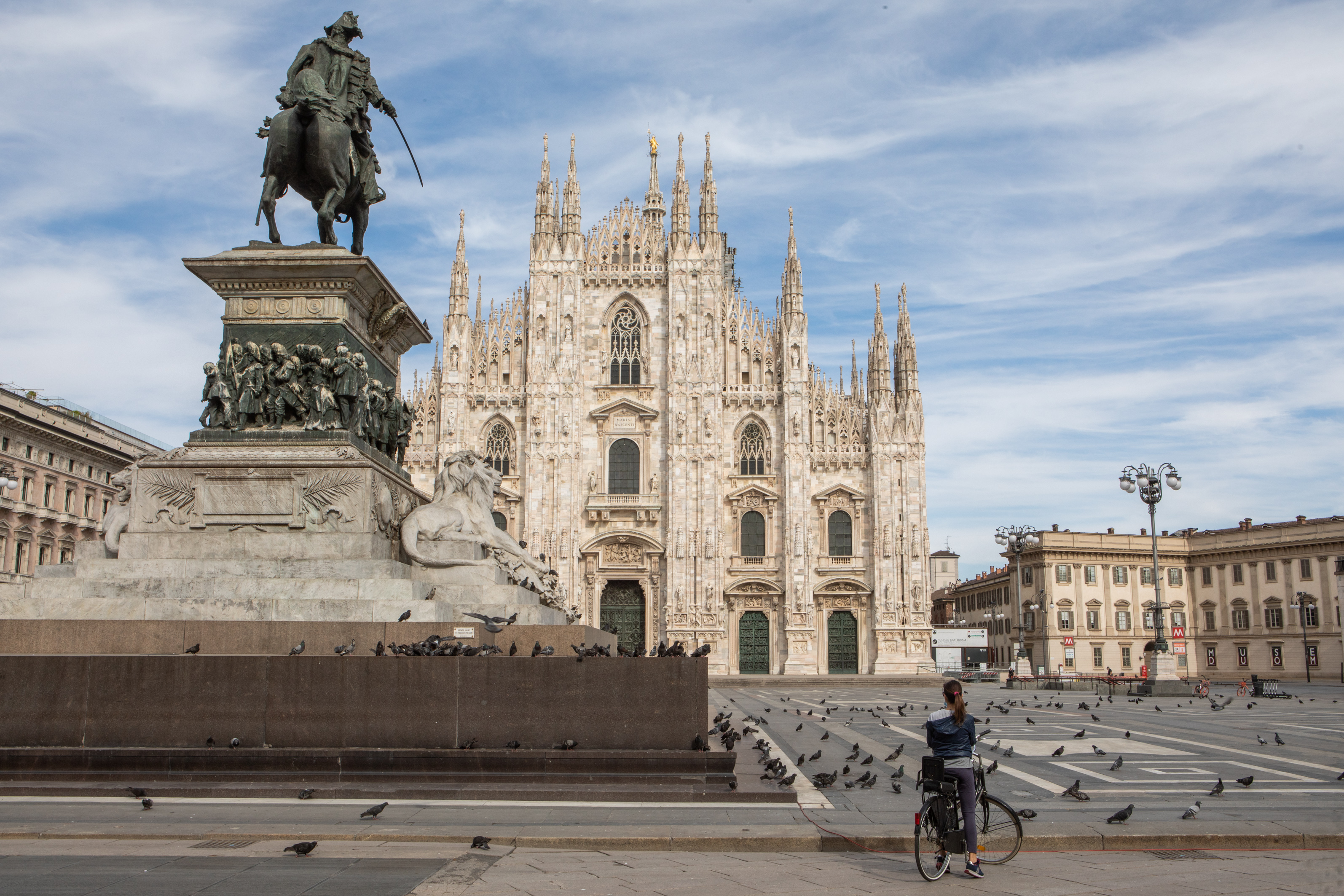 AA
So far, what are the assignments you've enjoyed covering the most?
CG
I enjoy covering politically related assignments but also social and environmental issues. For example, last summer, former home office minister and far-right politician Matteo Salvini's rallies on Italian beaches and the development of his political agenda were definitely highlights. At the same time I also enjoyed covering minor events: last September I photographed environmentalist groups in Venice who were protesting against cruise ships passing through the lagoon - this was an incredible experience.
"My advice for emerging photographers is to keep shooting" CG
AA
Do you have any correspondence with the journalists whose writing your pictures will accompany? Possibly making contributions based on your experiences?
CG
I work with journalists on specifically assigned stories - these are either feature stories or portraiture work. [Often] The other journalist is there with me so it isn't necessary, but I know other colleagues who do make contributions in general.

AA
Do you have any advice for emerging photographers?

CG
My advice for emerging photographers is to keep shooting. I think it's really easy to take mediocre photos and there are a lot of great photographers out there. I guess the best way to improve is to keep shooting and try to understand what can be done better. As a wise photographer once told me "we just keep trying because we must".
︎︎︎Dowload PDF
︎︎︎Next
---
Alessia Arcuri (Italy, 1991) is a curator and bookseller specialised in Arts and Photography. In her practice, Alessia explores her passion for visual communication and literature.


Claudia Greco
(Italy, 1995) is a photojournalist based in Milan. Her work focuses on social issues, breaking news and politics in Italy. Claudia graduated in Photojournalism and Documentary Photography in 2018. See more at
(www.claudiagreco.com)